About us
Dramakarma is about taking part in Drama because
we love it!
At DK we follow the mantra
'Just Be'.
For us this encompasses the idea that all students will be accepted for what they are. It also provides a strong link to well-being. We aim to help our students achieve mental stillness and awareness of self and others within the workshop space and stage in order to help them develop their improvisation skills.
DK classes involve collaborative improvisation, intrigue and problem solving. The student is at the heart of everything we do and we see it as our mission to help to individuals to find their own voice by being enabled to work without inhibition in a safe environment in which their ideas are given prominence and shape.
We also engender effective team building through the vehicle of drama/theatre and the immersive approach we take. We are developing links with Fair Frome and local schools, offering assisted places in order to reach out to members of the community who may have less experience of drama and theatre.
Who are we?
Kevin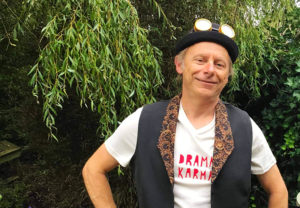 I'm Kevin. I have worked in Middle and Secondary schools as a Drama teacher over the last 35 years, in this country and overseas, before finally finding the escape hatch. I have worked in schools in Northumberland (home 'toon' Morpeth!), Salisbury, Cambridgeshire, Singapore (somehow, I wrote a play my school performed at the National Theatre da da! ) and finally Somerset.
Throughout this time I have continued to be inspired by the energy, imagination and potential of young people and have loved discovering the world through their eyes and the lens of drama. My 'worky' passions are creating instant drama- starting off with something random like a piece of string and discovering it can be something magical – working in the community in every space you can think of – even 'outer space' and of course, re-imagining Shakespeare. Dramakarma, we hope, will do all of the above (though no plans to tour Singapore), while shining a light on dark places, bringing life where…cut, cut, cut. Alright, calm down!
Some things about me:
I love outdoor swimming;
I love cycling holidays
I love theatre – especially when it's funny;
I love music but mainly the 'Dad' genres;
I love History and historical fiction -yea!;
I love my labradoodle and the rest of his human pack;
I love anything that brings joy and brightens the day.
Chloe
I'm Chloe. I'm a mother of four and have always had a passion for creativity and drama. I live in Somerset. I grew up near Frome. I guess you could call me a jack of all trades…and well, you know how it ends. But after lots of different jobs including working on a drill ship in the South China Sea, I eventually went to London and graduated from Chelsea Arts College with a first in Graphic Design. I then worked there for a few years before moving back to Somerset just before I gave birth to my first son. I have lived here ever since with my partner in life, Tommy, and our four little scamps (3 boys and a girl). That has kept me busy for quite some time! During this time however, I have worked alongside Kevin on many productions and have developed, even more so, my passion for drama and the theatre. I have watched how drama has had such a huge effect on my own children and given them the ability to grow in confidence and express themselves. This is why I have partnered with Kevin on this journey as I want to give more kids this amazing opportunity.
Some things about me:
I've got a rattlet*;
I try to live for the moment;
I love travelling and going on adventures;
I love drawing;
I love fixing stuff;
I love making stuff;
I'm a technogeek;
I love dancing;
I love dance/80s music;
I love laughing.
*a haircut which is a cross between a mullet and a rats tail…you heard it here first…and probably last!