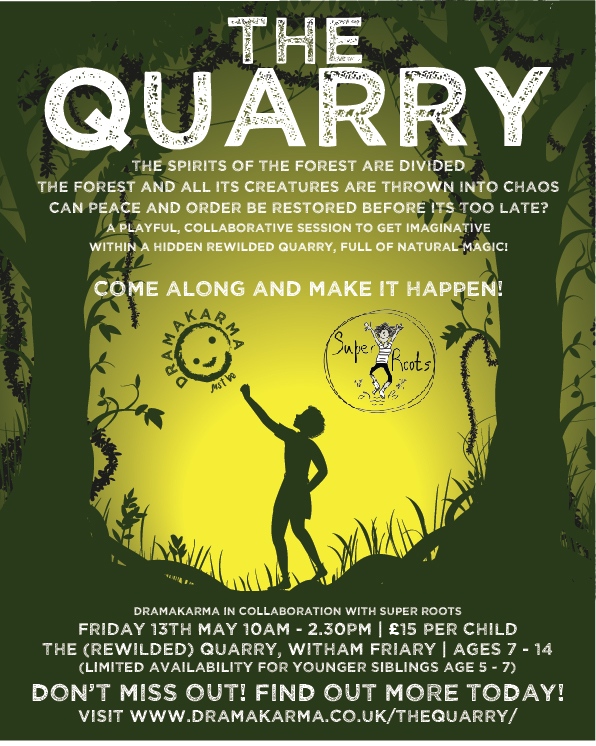 The spirits of the forest are divided
The forest and all its creatures are thrown into chaos
Can peace and order be restored before its too late?
Come along and make it happen!
A playful, collaborative session to get imaginative within a hidden rewilded quarry, full of natural magic!
This will be a play we experience and create together using the environment. The theme of the play is based an idea from Midsummer Night's Dream. The spirits of the forest have divided into two tribes and are arguing among themselves, throwing the natural world into an imbalance. Who are these spirits? Why did this conflict emerge? Can we find a solution and restore order?
This will be an exciting piece of outdoor drama taking place in different areas throughout the quarry and run by Dramakarma in conjunction with Super Roots, experienced Play and Forest School leaders.
We event will run from 10am until 2.30pm and will cost £15 per child.
DETAILS: Friday 13th May – 10am – 2.30pm (please arrive around 9.45am). AGES: 7 – 14 (with limited availability for younger siblings age 5 – 7)
LOCATION: The Rewilded Quarry, Witham Friary, BA11 5HD
A BIT MORE ABOUT US…
DRAMAKARMA
We are a responsive Drama company, dedicated to helping children create and and realise ideas from their own imagination, leading to a performance at the end of term, which we will aim to share.
At DK we follow the mantra 'Just Be'. For us this encompasses the idea that all students will be accepted for what they are. It also provides a strong link to well-being. We aim to help our students achieve mental stillness and awareness of self and others within the workshop space and stage in order to help them develop their improvisation skills.
DK classes involve collaborative improvisation, intrigue and problem solving. The student is at the heart of everything we do and we see it as our mission to help to individuals to find their own voice by being enabled to work without inhibition in a safe environment in which their ideas are given prominence and shape.
We also engender effective team building through the vehicle of drama/theatre and the immersive approach we take. We are developing links with Fair Frome and local schools, offering assisted places in order to reach out to members of the community who may have less experience of drama and theatre.
SUPER ROOTS
Super Roots CIC develops inclusive projects to get kids and families outdoors! Combining Forest School and adventure play, Super Roots create opportunities for children to use tools, swing high, experience fire – all to get more curious and protective about the wild natural world on our doorsteps.
15 minutes South of Frome, Super Roots has recently landed in 2 acres of a rewilded quarry full of different habitats and magical corners. Location details to be sent following booking.
COMING SOON
In the May half term two day sessions, Super Roots and DramaKarma will be joined by the Trickster Trailer, bringing hands-on natural dyeing using & exploring local plants, trees & wild flowers onto materials to add into the drama – costumes, flags, maps, patches and others. Together we will create a spell-binding version of Midsummer Night's Dream to include an invited audience at the end of the event, Further details to follow!