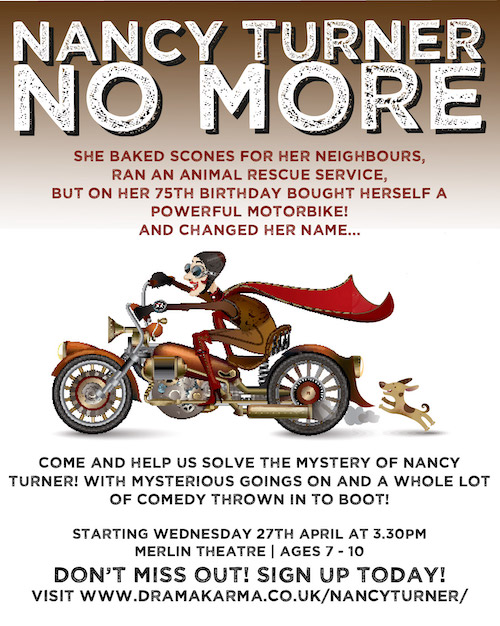 Nancy Turner No More
New for the summer term!
Everyone in the village loved Nancy. She baked scones for her neighbours, ran an animal rescue service from her garden and was helpful and kind to all who met her. She took part in the knitting circle on Mondays and went to the bingo every Thursday.
However, for her 75th birthday Nancy bought herself a motorbike. Not just any motorbike. A Ducati Streetfighter V2, rumoured to cost £14,000.
No more the Nancy Turner we all knew and loved. Before long no one had a good word to say about her. Even the ladies in the knitting circle lay down their needles and walked out when she popped round for a morning cuppa. But everyone was shocked when she was found in the churchyard…a bunch of red carnations in her hand….
At 3.30 – 4.30pm at the Merlin Theatre on Wednesday 27th April 2022 for 11 weeks (excluding half term). Final session Wednesday 13th July 2022.
NB We will not be running the club on the last Monday of the Summer term.
A BIT MORE ABOUT US…
At DK we follow the mantra 'Just Be'. For us this encompasses the idea that all students will be accepted for what they are. It also provides a strong link to well-being. We aim to help our students achieve mental stillness and awareness of self and others within the workshop space and stage in order to help them develop their improvisation skills.
DK classes involve collaborative improvisation, intrigue and problem solving. The student is at the heart of everything we do and we see it as our mission to help to individuals to find their own voice by being enabled to work without inhibition in a safe environment in which their ideas are given prominence and shape.
We also engender effective team building through the vehicle of drama/theatre and the immersive approach we take. We are developing links with Fair Frome and local schools, offering assisted places in order to reach out to members of the community who may have less experience of drama and theatre.
---
Join the club
(15 spaces available on first come first served basis)
Creative Drama for 7 - 10 Year Olds