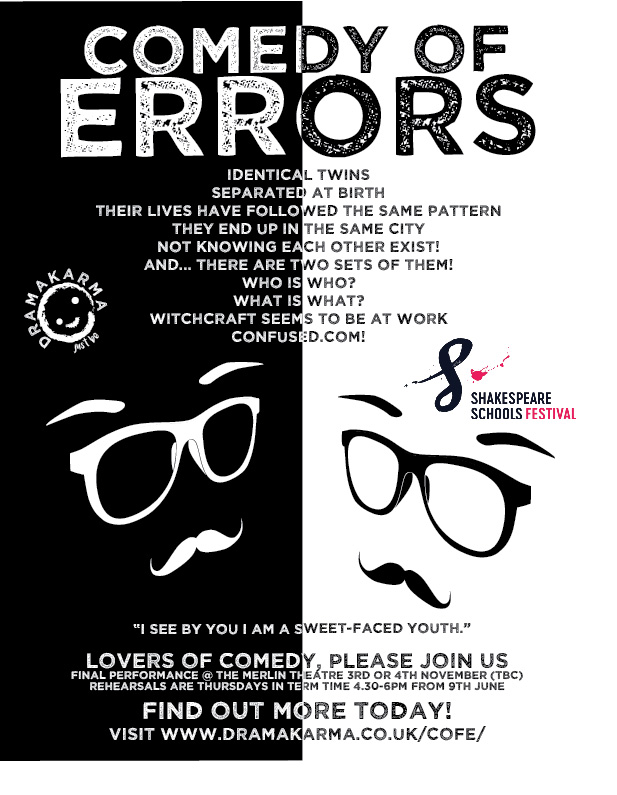 "There's none but witches inhabit here!'
Identical twins
Separated at birth
Their lives have followed the same pattern
They end up in the same city
Not knowing each other exist!
And… there are two sets of them!
Who is who?
What is what?
Witchcraft seems to be at work
Confused.com!
Dramakarma are participating in the Shakespeare for Schools Festival.
WHEN: Rehearsals are every Thursday in term time 4.30pm – 6pm from 9th June 2022.
AGE: 11 – 16 years
SESSIONS: 9th, 16th, 23rd, 30th June; 7th, 14th, 21st July; 15th, 22nd, 29th September; 6th, 13th, 20th October. (Please note there will not be a session on Thursday 8th September 2022).
COST: £100 for the course. This can be paid in 4 x £25 instalments. (We will require the first instalment upfront to secure your place.)
WHAT'S INCLUDED: This will include all the sessions above plus we will be joined by a CSSF facilitator for a half-day workshop in the theatre (date to be confirmed. This will be during term time and the students will need permission from their schools, but we have never found this to be an issue). The students will get expert support and advice from a theatre professional, tailor-made to the needs of our performance. They will also learn the secrets of theatre staging, uncover the hidden intentions and flourishes in Shakespeare's scripts.
We will also be arranging for a mutually agreeable Sunday rehearsal in the Autumn Term, but we will send details of this closer to the time.
Final performance @ the Merlin Theatre on 3rd/4th November (TBC). There will be a half day rehearsal with an SSF practitioner on the day of the performance also.
Sign up below today!
More about Shakespeare for Schools Festival
Each year thousands of young people from hundreds of primary, middle, secondary and SEND schools across the country unite in the world's largest youth drama festival. Months of preparation culminate in exhilarating performance evenings; young people performing Shakespeare in professional theatres, raising aspirations and unlocking the potential of students and teachers alike.
We have a lot of experience of the festival within the team already as leaders, supporters and students who have taken part in Romeo and Juliet, Macbeth and Hamlet most recently. It is a real privilege to feel that you are part of this international celebration.
Through involvement in the festival, young people can consolidate or even change their attitude to learning; it instils curiosity, empathy and pride. At DK we aim to continue to work in our own style, to create an ensemble in which all participants contributions are highly valued. Together we will create our own interpretation of the play and every individual will have their moment in the spotlight. Working on the Shakespeare for Schools Festival is a highly rewarding process and one we are really excited about! 
What is the impact of Shakespeare for Schools?
98% of teachers said that their students increased in confidence;
95% of teachers said that children were better at empathising with one another;
95% of teachers said their students were more resilient as a result of the festival;
98% of teachers agreed that their students were better at working together as a team;
85% of teachers say their students academic attainment improved thanks to the festival;
5,600 students took part in the festival, nationwide, in 2020.
You can't argue with stats!